Favorite Recipes

Vegetable Enchiladas
--the creamy tomato mixture that covers these enchiladas gives a delicate touch to a hearty, stick-to-your-ribs Mexican dish.

Vegetable mixture:
2 tablespoons olive oil
1 medium onion, diced
2 medium zucchini, quartered lengthwise and thinly diced
1 teaspoon dried oregano
One 4-ounce can chopped green chiles, drained
1 1/2 cups canned kidney beans, rinsed and drained
Salt to taste
Freshly ground black pepper to taste

Sauce:
One 28-ounce can tomato puree
1/2 cup evaporated milk
1/3 cup finely chopped fresh cilantro (or 1 tbsp. dried cilantro)
1 large garlic clove, pressed
1/4 teaspoon salt
Freshly ground black pepper to taste


Eight 8-inch flour tortillas
2 cups grated Monterey Jack cheese
Freshly ground black pepper to taste


1) Heat the oil in a large skillet over medium-high heat. Add the onion and saute 5 minutes. Stir in the zucchini and oregano and cook until tender but not mushy, about 7 minutes. Remove the pan from the heat and stir in the chiles, kidney beans, salt, and pepper. Let cool.

2) Preheat the oven to 350 degrees F. To make the sauce, combine the tomato puree, evaporated milk, cilantro, garlic, salt, and pepper.

3) To assemble the enchiladas, pour a layer of sauce on the bottom of two large casseroles such as a 12x7x2-inch baking dish (you don't want to crowd the enchiladas). Spoon one eighth of the bean mixture along the center of a tortilla; then sprinkle on 2 tablespoons of the cheese. Roll the enchilada and place seam-side down in a baking dish (don't worry if the tortilla breaks up a bit). Repeat with the remaining tortillas.

4) Spoon the remaining sauce over all of the enchiladas, and sprinkle some of the remaining 1 cup of the cheese on each enchilada. (The enchiladas may be prepared to this point up to 2 hours in advance, refrigerated, and returned to room temperature before baking.)

5) Bake 25 minutes, or until hot and bubbly. Let sit 5 minutes before serving.

Serves 4 (two enchiladas/serving)
---
New Orleans Okra
--from Linda McCartney's Home Cooking. We like to add a few dashes of hot pepper sauce to this dish just before serving.

2 tablespoons olive oil
1 medium onion, chopped
1 small red, green, or yellow pepper, chopped
3/4 lb. okra, sliced (frozen sliced okra, thawed slightly, works well, too)
one 16-ounce can chopped tomatoes
1 tablespoon chopped fresh basil or 1 teaspoon dried
salt and freshly ground black pepper to taste

Heat the oil in a large saucepan and saute the onion and pepper gently for 5-6 minutes, until lightly browned.

Increase the heat, add the okra and saute for 5 minutes, stirring constantly.

Reduce the heat and add the tomatoes, basil, and seasoning. Stir well. Cover the pan and simmer for 15 minutes. Add more liquid, such as tomato juice or vegetable stock, if desired.

Serve hot over rice or toast. Makes four servings.
---
Chocolate Angel Cake
--the lightest, moistest angel food cake you'll ever have! From the Taste of Home magazine.

Ingredients:

1-1/2 cups confectioners' sugar
1 cup cake flour
1/4 cup baking cocoa
1-1/2 cups egg whites (about 10 eggs)
1/2 teaspoon salt
1 cup sugar

Frosting:

1-1/2 cups whipping cream
1/2 cup sugar
1/4 cup baking cocoa
1/2 teaspoon salt
1/2 teaspoon vanilla extract

Chocolate leaves, optional

Directions:

Sift together convectioners' sugar, flour, and cocoa three times; set aside. In a mixing bowl, beat egg whites, cream of tartar, and salt until soft peaks form. Add sugar, 2 tablespoons at a time, beating until stiff peaks form. Gradually fold in cocoa mixture, about a fourth at a time. Spoon into an ungreased 10-in. tube pan. Carefully run a metal spatula or knife through batter to remove air pockets. Bake at 375 degrees for 35-40 minutes or until the top springs back when lightly touched and cracks feel dry. Immediately invert pan; cool completely. Run a knife around edges and center tube to loosen; remove cake. In a mixing bowl combine the first five frosting ingredients; cover and chill for 1 hour. Beat until stiff peaks form. Spread over top and sides of cake. Store in refrigerator. Garnish with chocolate leaves.

Makes 12 to 16 servings.
---
Four-Fruit Compote
Ingredients:
1 can (20 ounces) pineapple chunks
1/2 cup sugar
2 tablespoons cornstarch
1/3 cup orange juice
1 tablespoon lemon juice
1 can (11 ounces) mandarin oranges, drained
3 to 4 unpeeled apples, chopped
2 to 3 bananas, sliced
Directions:
Drain pineapple, reserving 3/4 cup juice. In a saucepan, combine sugar and cornstarch. Add pineapple juice, orange juice, and lemon juice. Cook and stir over medium heat until thickened and bubbly; cook and stir 1 minute longer. Remove from the heat; set aside. In a bowl, combine pineapple chunks, oranges, apples, and bananas. Pour warm sauce over the fruit; stir gently to coat. Cover and refrigerate.
Makes 12-16 servings.
---
Deep Chocolate Mint Cookies

Ingredients:
1-1/2 cups (10-ounce package) Nestle Toll House Mint-Chocolate Morsels, divided
1-1/4 cups all-purpose flour
1/2 tsp. baking soda
1/4 tsp. salt
1/3 cup butter or margarine, softened
1/4 cup granulated sugar
1/4 cup packed brown sugar
1 egg
1/2 tsp. vanilla extract
Directions:
Microwave 3/4 cup morsels in medium, microwave-safe bowl on high power for 1 minute; stir. Microwave at additional 10- to 20-second intervals, stirring until smooth. Combine flour, baking soda, and salt in small bowl. Beat butter, granulated sugar, and brown sugar in small mixer bowl. Beat in egg, vanilla, and melted chocolate. Gradually beat in flour mixture. Stir in remaining morsels. Drop by rounded tablespoonfuls onto ungreased baking sheets. Bake in preheated 350 degree oven for 8 to 10 minutes or until cookies are puffed (do not overbake). Cool on baking sheets for 5 minutes; remove to wire racks to cool completely.
Makes about 1-1/2 dozen cookies.
---
Peanut Butter Pie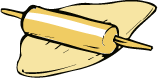 Crust:
1-1/4 cups Oreo chocolate cookie crumbs (in bakery aisle)
1/4 cup sugar
1/4 cup butter or margarine, melted
Filling:
1 package (8 ounces) cream cheese, softened
1 cup creamy peanut butter
1 cup sugar
1 tablespoon butter or margarine, softened
1 teaspoon vanilla extract
1 cup heavy cream, whipped
Chocolate curls or chocolate cookie crumbs, optional
Directions:
Combine crust ingredients; press into a 9-in. pie plate. Bake at 375 degrees for 10 minutes. Cool. In a mixing bowl, beat cream cheese, peanut butter, sugar, butter, and vanilla until smooth. Fold in whipped cream. Gently spoon into crust. Garnish with chocolate curls or cookie crumbs if desired. Refrigerate.
Makes 8-10 servings.
---
Seven Bean Salad

Our own variation on the traditional four-bean salad--but much better!
1 can (16 ounces) green beans, drained
1 can (16 ounces) yellow wax beans, drained
1 can (16 ounces) garbanzo beans, rinsed and drained
1 can (16 ounces) light red kidney beans, rinsed and drained
1 can (16 ounces) dark red kidney beans, rinsed and drained
1 can (16 ounces) pinto beans, rinsed and drained
1 can (16 ounces) black beans, rinsed and drained
1/4 cup slivered green pepper
8 green onions, sliced
1 cup sugar
2/3 cup cider vinegar
1/3 cup vegetable oil
3/4 teaspoon salt

In a large salad bowl, combine all of the beans, green pepper and onions. In a small bowl, combine remaining ingredients; stir until the sugar dissolves. Pour over bean mixture. Cover and refrigerate overnight, stirring several times.
Yield: 10-12 servings.
---
Stuffed Shells
28 jumbo macaroni shells, cooked according to pkg. directions, drained and set aside
1 (32 oz.) jar spaghetti sauce with mushrooms
2 (10 oz.) pkgs. frozen chopped spinach, thawed and drained
1 small onion, chopped
2 tbsp. butter
2 eggs
2 c. ricotta cheese (1 pound)
2 c. (8 oz.) shredded mozzarella cheese
1/2 c. grated Parmesan cheese
2 tsp. dried parsley (or 2 tbsp. chopped fresh parsley)
1 tsp. dried whole oregano
dash of ground nutmeg
dash of Tobasco sauce
1/4 c. grated Parmesan cheese

Sauté onion in butter until soft. Add spinach and sauté 5 minutes.
Mix eggs, ricotta, mozzarella, Parmesan, parsley, oregano, nutmeg, and Tobasco. Add spinach mixture. Stuff shells.
Spoon 1 c. spaghetti sauce into a lightly greased 13x9x2-inch glass baking dish. Arrange shells in baking dish. Spoon remaining sauce over shells. Cover and bake at 350 degrees for 30 minutes. Uncover; sprinkle with 1/4 cup parmesan. Bake, uncovered, for 5 minutes more.
Yield: 6-8 servings.